Heartbreaker
Hollywood Hearts #2
by Belinda Williams
Publication Date: June 26, 2017
Genres: Adult, Contemporary, Romance
Purchase: Amazon | Barnes & Noble | iBooks | Kobo
WHEN LOVE IS AN ACT, WILL HER HEART BE FOOLED?
Lena Lyons, one of Hollywood's hottest female stars, has a celebrity problem: she's too famous.
Lena's had stalkers before and figures the crazies come with the territory, but when things start going dangerously wrong on the set of her latest movie, her production company aren't taking any risks. They hire Marc Romero, Hollywood security expert. And Lena thought stalkers were bad—Marc appears to hate his job and anything celebrity, including Lena.
Still reeling from her divorce, the last thing Lena needs is a brooding investigator who won't let her out of his sight. Worse still, his plan to protect her involves him going undercover as an up-and-coming actor and pretending they're a couple.
Lena has no choice but to get close to the mysterious man who won't share anything about himself. With her life depending on her acting skills, she must convince everyone Marc's the man for her. But will she be able to convince her heart it's all an act?
Escape behind the scenes with the second installment of the Hollywood Hearts series, perfect for fans of Rachel Gibson, Victoria Dahl, Susan Elizabeth Phillips and Liliana Hart.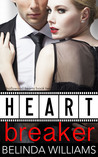 Heartbreaker by Belinda Williams
My rating: 4 of 5 stars
Heartbreaker features a sassy heroine and a gruff hero. With Marc pretending to be her boyfriend, Lena is under constant protection from someone who wants to harm her.
The chemistry between Lena and Marc is obvious from the start. Marc is a bit more secretive than Lena. He is pulled apart slowly, while we get to know Lena much more quickly. Their story is full of suspense, and a bit of push and pull as Lena figures out what she wants. She's still healing her life, so is Marc.
Heartbreaker was witty, suspenseful, and an exciting read. I was on the edge of my seat. I did not want to put this down! Twistier than I expected, I would recommend to the reader looking for a suspenseful romance.
*Review copy requested and reviewed on behalf of OMGReads*
About Belinda Williams
Belinda is a marketing communications specialist and copywriter who allowed an addiction to romance to get the better of her.
Belinda is the author of the contemporary romance series, City Love, about four young professional women living in Sydney juggling love, work, friendships and life. The series is published by Momentum (Pan Macmillan), and available from all major ebook retailers.
Belinda is currently working on a new series: Hollywood Hearts. HEARTTHROB is available now, and the second book in the series, HEARTBREAKER, is due for release in June 2017.
Belinda was named a top ten finalist in The Romance Writers of Australia Emerald award in both 2013 and 2014. Her debut novel, Radiant, a paranormal romantic suspense, is also available on Amazon.
Her other addictions include music and cars. Belinda is a music lover and her eclectic taste forms the foundation for many of her writing ideas. Her healthy appreciation for fast cars means she would not so secretly love a Lamborghini. For now she'll have to settle with her son's supercar Hot Wheels collection and writing hot male leads with sports cars.
Belinda lives in Sydney, Australia.
Website | Newsletter | Facebook | Twitter | Pinterest | Goodreads