Combust, an all new sexy and emotional standalone by K. Bromberg is NOW AVAILABLE!
From New York Times Bestselling author, K. Bromberg, comes the second standalone book in the Everyday Heroes series. Just how hot will firefighter Grady Malone turn up the heat?

Songwriter Dylan McCoy has been burned.

By her boyfriend she found in her bed . . . with someone else.

By the contract she signed that obligates her to work with him until the songs for his new album are complete.

By her agent when she asked Dylan to keep their breakup on the down-low.

When she finds herself in Sunnyville, she refuses to let her new roommate burn her too. Still . . . a rebound has never looked so good.

That's her first thought when she sees firefighter Grady Malone.
Sexy. Charismatic. Unapologetic. He's a man who carries his own scars—the ones on his back, the survivor's guilt on his soul, and the fear in his heart.

When an unexpected visitor puts their roommate status to the test, will their undeniable attraction burn out, or will they both take a chance and play with fire?
Pre-Order Combust today!
Amazon US – http://amzn.to/2DUI1Hc
Amazon UK – http://amzn.to/2FlPDQk
Amazon CA – http://amzn.to/2BzsBTE
iBooks – https://apple.co/2CBOtm5
Barnes and Noble – http://bit.ly/2CPGb7K
Kobo – http://bit.ly/2CzIyhT
Signed Paperback – http://bit.ly/2naMqvt
Add to Goodreads: http://bit.ly/2kQ9z8P
Okay so this cover …. totally delivered *swoon* I cannot tell you how happy I get when a cover actually matches the story inside! When I saw this cover I immediately felt loss, #feels, sexiness and heart. It screamed sexy and whispered depth. And it delivered!
The journey of Grady Malone and Dylan McCoy was all kinds of feely and swoony and deep and truly layered perfectly. The story unfolded at a beautifully seamless pace. The story's main focus is Grady's growth for sure. Dylan has her own things to hurdle, but Grady's growth is definitely the focus. Please don't take that as Dylan not being characterized properly, because she was. There is nothing in this journey that wasn't. I'm just trying to point out, and maybe not so well lol, that this book is way more than a romance journey. BOTH Grady and Dylan have their own history to push thru while also navigating their attraction to one another. So there is a lot of story here. Deep story. And I really loved all of it! I cannot wait for Grayson's story! 🙂
Copy provided for blog tour review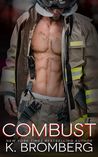 Combust by K. Bromberg
My rating: 5 of 5 stars
This story made me cry more times then I care to count. And anybody that knows me knows that I don't cry! But having said that it also shows how beautiful and heartfelt this story is.
This story has so much sass,funny times, love and strength that I can't even put words into it. So much heartbreak that can only be cured with that special kinda of love.
Firefighter Grady is my new book boyfriend. This man is everything. I was crying like a little girl while I read what has happened to him and how he was struggling with the guilt. And I loved Dylan for showing him how to overcome it. Their love was so beautifully written that I have no words…well none that can express how much I love this book.
Apparently I was living under a rock for this to be my first K.Bromberg book..I'm an instant fan. Looking forward to more of her books that will come my/our way 💝
***Review copy requested and reviewed on behalf of OMGReads Blog ***
About K. Bromberg
New York Times Bestselling author K. Bromberg writes contemporary novels that contain a mixture of sweet, emotional, a whole lot of sexy, and a little bit of real. She likes to write strong heroines, and damaged heroes who we love to hate and hate to love.
A mom of three, she plots her novels in between school runs and soccer practices, more often than not with her laptop in tow.
Since publishing her first book in 2013, Kristy has sold over one million copies of her books across sixteen different countries and has landed on the New York Times, USA Today, and Wall Street Journal Bestsellers lists over twenty-five times. Her Driven trilogy (Driven, Fueled, and Crashed) is currently being adapted for film by Passionflix with the first movie slated to release in the summer of 2018.
She is currently working on her Everyday Heroes trilogy. This series consists of three complete standalone novels—Cuffed, Combust, and Cockpit (late spring 2018)—and is about three brothers who are emergency responders, the jobs that call to them, and the women who challenge them.
She loves to hear from her readers so make sure you check her out on social media or sign up for her newsletter to stay up to date on all her latest releases and sales: http://bit.ly/254MWtI
Connect with K. Bromberg
Website: http://www.kbromberg.com
Facebook: https://www.facebook.com/AuthorKBromberg
Twitter: https://twitter.com/KBrombergDriven
Instagram: https://instagram.com/kbromberg13/
Amazon Author page: http://amzn.to/204Qnfz
GoodReads: http://bit.ly/1koZIkL
Join her Reader Group: http://bit.ly/1PMUoG3
Sign up for her Newsletter: http://bit.ly/254MWtI