Title:  Blaze
Series: Unbreakable Bonds #5
Author: Jocelynn Drake & Rinda Elliott
Publisher: Drake and Elliott Publishing LLC
Release Date: June 22, 2018
Heat Level: 4 – Lots of Sex
Pairing: Male/Male
Length: 75,000
Genre: Romance, Thriller/Suspense
Synopsis
The rings have been selected.
The champagne placed on ice.
The cake decorated.
And the pre-wedding sex is off the charts…
Lucas Vallois and Andrei Hadeon are finally ready to walk down the aisle. There's just one small problem.
A ghost from Lucas's past shows up days before the wedding, desperate for help. Against his better judgement, Lucas and his best friend, Ashton Frost, plan a fast trip back to the one place they swore they'd never go: their hometown in Oklahoma. But the danger is worse than they expected.
Now, they're in a race to track down a killer, keep a young girl safe, and get Lucas back in time to say, "I do."
Excerpt
He reached the bathroom as Andrei was drying off with a large, navy blue towel. His head jerked up in surprise, those beautiful dark eyes skimming over Lucas's face, instantly reading his mood. He dropped the towel and came forward, closing the distance between them. Large hands cupped both of Lucas's cheeks. The anger he'd been holding on to was immediately stripped away to reveal the underlying pain that he'd buried deep. He didn't question how Andrei knew or what he saw. The man just knew him, and he would be forever grateful that Andrei was in his life.
"What did Snow say? What can I do?" Andrei murmured. He leaned in and brushed his lips gently across Lucas's.
Tension eased from Lucas's shoulders. He deepened the kiss for a moment, tasting Andrei, letting himself get lost in his fiancé's unconditional love. He broke off the kiss before it could stretch. Snow didn't give hollow threats. He would come upstairs and drag Lucas out of the shower if he took too long.
"My sister is here."
Andrei lurched back from Lucas, releasing his face. "Your actual sister? Like a blood relative?"
"Yeah." Lucas stepped around him and turned the knob for the shower. Since Andrei had just exited the shower, the water was already hot. He stepped inside under the spray and grabbed the soap. Cool air brushed against his backside. Lucas looked over his shoulder to find Andrei holding the door partially open, so he could talk to him without needing to shout.
"I wasn't sure if any of your family was living. You…you never talk about them."
"My younger brother died a few years ago, but the rest are all alive and still in Oklahoma as far as I know. I don't talk to them, and until now, they've never tried to talk to me."
"Do you want me to leave?"
"No, definitely not." Lucas turned, rinsing off the soap. He grabbed the shampoo and paused as he watched Andrei. "Do you want to meet her?"
A small smile played on his lips, and Lucas had the feeling Andrei was weighing his answer before he finally spoke. "You've met my family."
"I love your parents."
Andrei rolled his eyes. "My parents are insane."
Lucas chuckled. Sonja and Milos Hadeon were definitely unique, but he wouldn't change a damn thing about them. He was proud to have them as his in-laws, even if they both liked to flirt with Snow. "True, but they love me."
"You don't think your sister is going to love me?"
"I don't give a shit if my sister doesn't love you. She doesn't deserve to know you. My family doesn't deserve to know someone as amazing as you." He squeezed a dollop of shampoo into his palm and roughly scrubbed his hair into a lather.
To his surprise, Andrei stepped back into the shower. Raising his hands, he threaded his fingers through Lucas's soapy ones, capturing his hands so that they were now slowly massaging his scalp. "Meeting your family isn't going to change us. I'm here. You're mine. We're getting married in less than two weeks." He punctuated each sentence with a sweet kiss, teasing away the anger that had risen once again.
"Thank you."
"Finish up. I'll be waiting for you."
My rating: 5 of 5 stars
Pure, unadulterated, joy is what I felt reading this book. Lucas and Andrei have a special place in my heart and when I heard we were getting a story about their nuptials, well, to say I'd been looking forward to it is an understatement. Right from the white hot opening paragraph I was sucked in and time stopped till I finished this book.
Their desperation and hunger for each other was as ferocious as ever, but here, approaching the wedding, it was palpable. They're so besotted and so deeply in love with each other that it's plain for anyone to see, and the way the authors pulled you in to enjoy this roller coaster along with the couple was just sublime. Knowing this group of men though, it's no easy ride; there's danger and mayhem to endure before any kind of HEA and we're again shown how they all pull together in a race against time to diffuse the threat and get to the altar, and what transpires just seems to bring them closer―if that's even possible.
I'm kind of jealous because what this group of complex men have is something remarkably precious, they're so close and would die for each other in a heartbeat. I'm besotted with Lucas, Snow, Rowe, Ian and their men (and don't start me on Mama Hadeon!) and for the authors to invoke this depth of emotional attachment to these characters is a rare talent indeed. This has to be one of the most perfect romance novels I've read (and I read ALOT), I really didn't want it to end and just thinking about this book and it's flawless ending leaves me with a ridiculous ear-to-ear grin. Lucas and Andrei have just the most perfect, perfect love. I'm still drunk on this book, it's an unforgettable read and it's spoilt me for anything I'll be reading after.
Review Copy requested and reviewed on behalf of OMG Reads.

Blaze by Jocelynn Drake
My rating: 5 of 5 stars
Andrei and Lucas, just days away from the wedding of the century are in total preparation. Their love getting stronger and hotter. Neither man expected to ever find a love with this much depth. Ian is a cute groomzilla, even though it's not his wedding!
Snow bring bad news by way of an unwanted relative, and they're off. Taking Lucas and Snow back to Oklahoma. The place they never wanted to see again. The memories are painful and apparently dangerous. They handle it with their usual charm. Wrecks, explosions, fire, just a typical day in the life of the unbreakable crew.
This book felt like coming home. These characters have such a great dynamic together. There are so many varying personalities in the books and they all shine here. Wonderful addition to the series.
Review Copy requested and reviewed on behalf of OMGReads.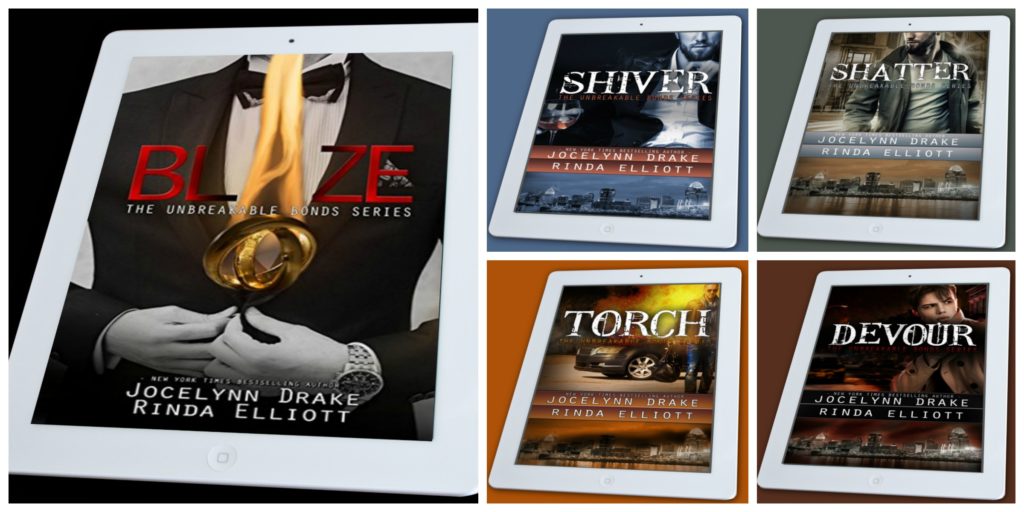 Unbreakable Bonds Series
Shiver (Unbreakable Bonds Series Book 1)
Shatter (Unbreakable Bonds Series Book 2)
Torch (Unbreakable Bonds Series Book 3)
Devour (Unbreakable Bonds Series Book 4)
Blaze (Unbreakable Bonds Series Book 5)
Meet the Authors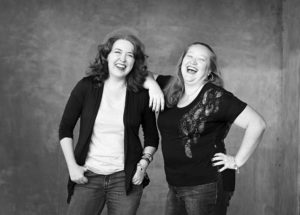 Jocelynn Drake and Rinda Elliott have teamed up to combine their evil genius to create intense gay romantic suspense stories that have car chases, shoot outs, explosions, scorching hot love scenes, and tender, tear-jerking moments. Their first joint books are in the Unbreakable Bonds series.
Giveaway